Welcome
Welcome to my blog!
What an incredible year this has been…..and it's only June!
It started off by being given a beautiful studio to use.
The studio is surrounded by trees with a lovely garden and with the backdrop of the mountain, giving it an airy atmosphere with great creative energy.
My students are ecstatic as they now have so much space to move around in.
It's fabulous now seeing students at all the different stages all in one space.
Also, so important for the beginner students to see in what direction they are heading and for the advanced students to listen to critiques in order to remind them of the stages and other information that they might have forgotten.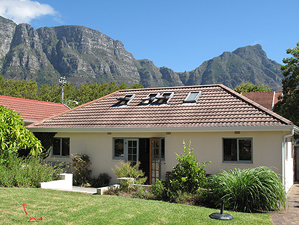 Then I was invited to represent South Africa in the commonwealth tent in an arts event in the UK in July called "Arts in Action".
http://www.artinaction.org.uk/artist-692/Kim-Myerson
Feel very honoured and grateful for such an amazing opportunity. I will be surrounded by nearly 400 other artists demonstrating their skills. So if you are in the area, come along.
I have been asked to bring a selection of paintings that represent my country.
As synchronicity would have it, a few days later I met Chuky, a beautiful woman studying for her doctorate in chemical engineering and asked if she would sit for me.
While posing, I was told the interesting story of her upbringing.
Her father is from a polygamous culture and so Chuky was raised by her father's first wife.
Chuky's preference is for a monogamous marriage and she also prefers the city to the country live style.
This gave me an idea for the composition of the painting….her looking up/dreaming of city life with the country life behind her.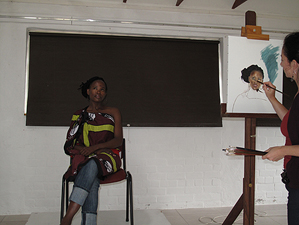 I have a dear friend Ego who has been asking me for ages to come and visit and paint with her in Bruges.
She has opened an amazing atelier called the Flemish Classical Atelier, where she has fabulous artists coming to give workshops and share their skills.
Have a look at her site : http://www.flemishclassicalatelier.com/
She invited me to come and give two workshops in August.
The first week will be a drawing workshop where the students will be using the sight size method copying plaster casts in charcoal.
The second week, I will be teaching a still life workshop in oils.
Ego has some fabulous still life objects and now has an excuse to go and purchase some more . The latest one being a beautiful blue and white vase….how exciting!
So I'm now super busy teaching and painting for the UK and will be updating you on what is going on in the studio……so keep tuned!